Program Overview
Check out the free resources ZIP teams gain access to!

In the ZIP Launchpad Program, teams gain access to a huge number of resources that they can use to propel their business to success. These resources are free for teams that show need, hard work and dedication.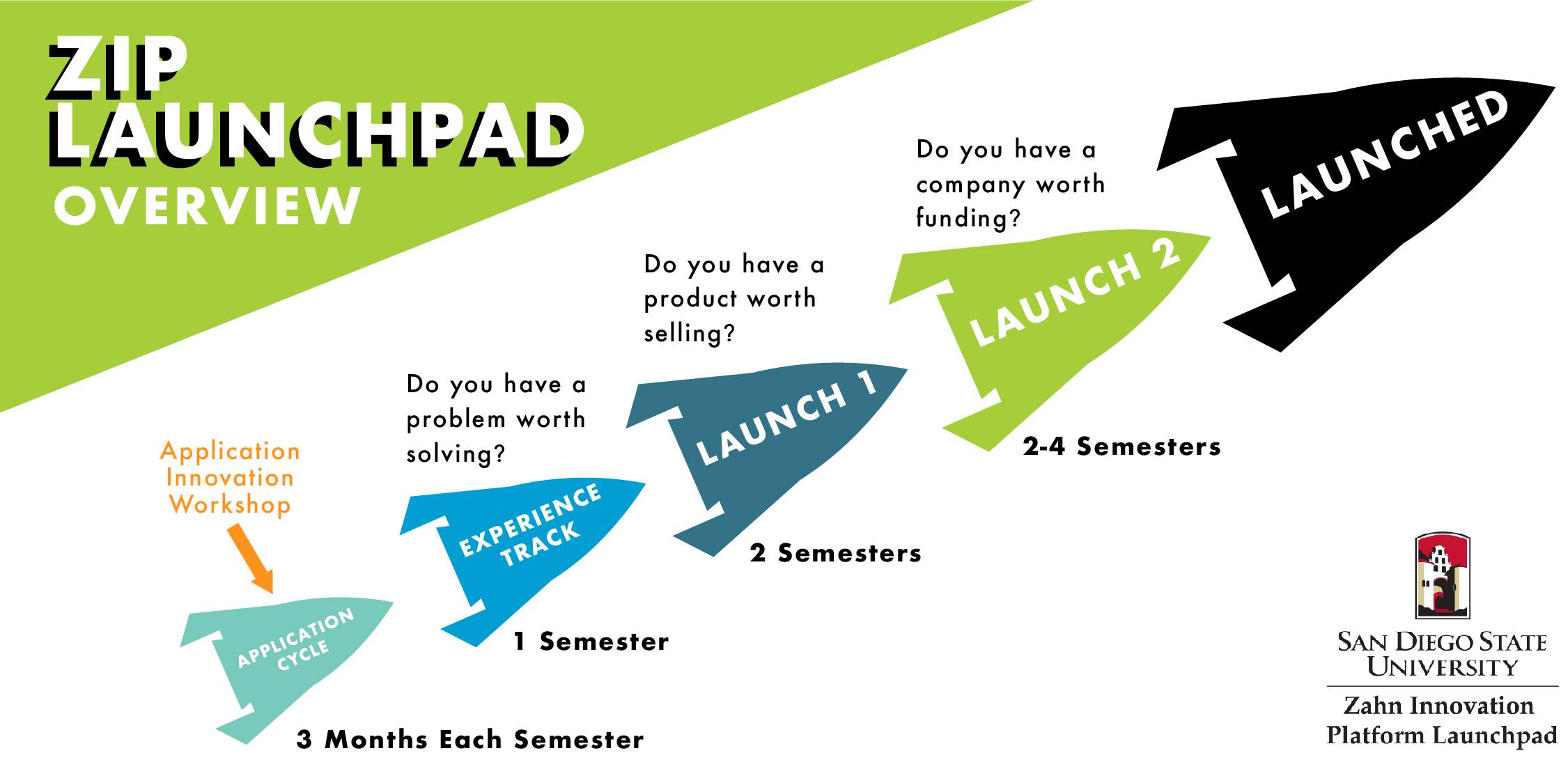 Overview: Four Stages of Success
The ZIP Launchpad provides extracurricular, hands-on entrepreneur training at SDSU. Like the student athlete competing on a team, we will provide you structure, training, and resources, but ultimately it is up to your passion, commitment and tenacity to succeed.
To move from track to track (described below), ZIP Launchpad teams participate in a Review Panel, every four months. This is an opportunity for teams to pitch to a panel of "investors" who help gauge if the team should, move forward, stay in their current track, or leave the program.
Stage 1: Application Cycle
Do you have an idea for a startup?
Increase your chances of admittance with these resources:
Meet one-on-one with a ZIP Launchpad staff member and recieve direct feedback on your idea and your application.
Stage 2: E-Track
Do you have a problem worth solving?
8-10 weeks of workshop were you will:
Build empathy with customers
Validate key assumptions about the problem-solution fit
Lay the foundation for a scalable business.
The Experience Track (E-track) is an intensive 8 to 10 week experience based cohort program designed to challenge a startup's key assumptions. Teams will participate in hands-on workshops that build empathy with customers, validate key assumptions about the problem and solution while laying the foundation for a scalable business. The E-track will coach teams on how to collaborate on key aspects of the business, take action and which features to build first so they can move forward with confidence.
The ZIP Launchpad is a performance driven culture that rewards hard work, dedication, commitment and teamwork. Teams must attend E-track labs from 11-3 on Friday's and commit a minimum of 5 hours per week on your startup. Like with everything in life, you get out what you put in. Our most successful teams commit whatever time it takes to be successful.
Lab 1
10:30am

Teams will choose a customer segment and create a portrait of a single person to represent the segment. They'll identify key assumptions about their customer's problems, needs, and goals.

Lab 2
11:00am

Teams will validate critical assumptions about their customers through live interviews.

*Launch Team Programming 11-1pm

Lab 3
11:00am

Teams will learn from customer development by translating their interview notes into actionable insights to validate their customer persona.

Lab 4
11:00am

Teams will identify what customers will do with their product and develop a customer-centric value proposition.

*Launch Team Programming 11-1pm

Lab 5
11:00am

Teams will focus their version one of their product MVP by identifying the minimum feature set that their customers will learn and buy.

Lab 6
9:45am

Launch and E-Track teams will go on a field trip to learn what San Diego's Downtown has to offer entrepreneurs.

Lab 7
11:00am

Teams will engage in open lab hours with the goal of launching an experiment that validates their version one of their product MVP.

*Pitch Coaches will Attend Brunch at 11am.
*Launch Team Programming 11-1pm

Lab 8
11:00am

Teams will learn the significance of pivoting while focusing the team around a vision, purpose, and the values that will drive the company.

Lab 9
11:00am

Teams will attend an intensive demo day pitch prep with an assigned pitch coach.

*Launch Team Programming 11-1pm
24/7 access to the ZIP Launchpad Collaborative Workspace
Conference Room Reservation
Mintz Levin Pro Bono Legal Guidance Office Hours(*)
Use of H.G. Fenton Company Idea Lab (*@)
Use of 3D printers
Use of Electronics Station (*@)
Pitch Coaching
Web Builder Package
Office Hours
Entrepreneur Society Membership
(*) requires Director approval
(@) may require training
Stage 3: Launch Track #1
Do you have product worth building?
Our staff helps you develop a working prototype, you'll use it to:
Learn more about the customer and their needs
Determine how much value, if any, your product or idea has
The results determine if you can move to Stage 3
Launch Track is all about creating prototypes that you will use to recruit and engage your early adopters. With the guidance of the ZIP Launchpad staff, you will use the latest tools and software to create your prototypes with minimal time and expense. You can then use these prototypes to learn about your customers, and determine if they value your solution enough to warrant further investment in your business.
All E-Track Resources

Ability to Apply for the Success Fund (up to $5k) (*)

Introduction to Mentor and Domain Experts (upon request)

Support for Business Competitions (*)

Paid Attendance at SD Networking Events(*)

Amazon Web Services

Service Provider Partner Support

One on One Office Hours with Advisor (upon request)

Access to Advisory Board Members

S/W Consultation (office hours with Gary Lyons)

Office hours with COB Faculty (as offered)


Introduction to Investors
(*) requires Director approval
Stage 4: Launch Track #2
Do you have a business worth investing?
We'll provide the framework to start and scale up:
How to obtain funding from angels and investors
How to crowdfund your project
Licensing or intellectual property, filling patents
Admission to a business incubator such as EvoNexus
Teams in the Launch Track 2 are working towards their Launch Goal. A launch goal represents the achievement of a major milestone that enhances the value of your business. The accomplishment of your launch goal should set your company up for continued progress and the ability to ramp up. Launch goals reflect external validation of your business such as:
Angel investment, grant and/or revenue goal

Licensing of your IP

Kickstarter or other crowdfunding campaign

Admission into a next-stage incubator such as EvoNexus

Demonstrable social impact for social enterprises

and/or some combination of the above