Entrepreneur Insights
Have you ever wondered what it is like to be an entrepreneur? Well now you can get an insight on what it's like! Read about our ZIP Launchpad teams and their journey in entrepreneurship.
---
Somnia Sleep Technology

In the purest sense of the form, an entrepreneur is an individual that identifies a need---any need--- and starts a business to fill that void. This definition however, provides very little insight in the specific details that truly makes a person thrive as an entrepreneur. So, that begs the question, what makes a successful entrepreneur? To answer that question, I had the opportunity to interview two student entrepreneurs who are currently working on prototype of their innovative product, to shed some light into what they feel truly makes an entrepreneur successful.
Sophie Chance and Hailey Valladao are two college students majoring in engineering who have relatively busy schedules occupied by classes, hanging out with friends, internships, and the occasional weekend camping trip. What sets these two apart from the rest of the students however, is their shared aptitude for entrepreneurship and passion for engineering. Both aspiring entrepreneurs are in their third year of college and have been friends since freshmen year. These two friends couldn't have been more compatible and are currently in development of a working prototype for their temperature regulating blanket.
June Harris

"I have no business background at all. Zip helps anybody with any kind of background, so that really does help. "
- June Harris
I just graduated SDSU in Dec 2017 with a degree in Biology and minors in recreational tourism management and anthropology. The focus of all three disciplines, really, is more sustainability and conservation driven, and I felt that interdisciplinary background might give me an advantage in career choice. I am about to finish an internship for a LEED (Leadership & Energy in Environmental Design) company, and we go around and identify buildings as green or eco-friendly buildings.
I have designed a product that helps eco-conscious grocery shoppers eliminate the need for single use plastic bags. These bags are a huge contributor to landfills and troubled areas such as the Pacific Ocean garbage patch. My goal is to tackle one aspect of the problem at the source in the grocery stores. My invention allows eco-friendly shoppers to bring in their own containers for bulk food purchases, so they don't have to use plastic bags. My product eliminates the need for the customer go to the register to have their container weighed, go bulk bin isle, fill it up, then go back to the register and have them weigh the difference between an empty container and the full one so they get charged only for the food.
Bold Brew

When it is your company, it is a representation of yourself. That's what's most rewarding."
- Jack Doheny
My name is Jack Doheny and I'm from Saint Louis Missouri. I am currently a senior at SDSU and will be graduating this December 2017. I absolutely enjoy being outdoors and when I have spare time I either go backpacking or surfing. Jake Solomon, my partner, is also graduating at the same time. He is from Rockland County, New York and is heavily interested in skateboarding. He grew up being very involved in...
My name is Jack Doheny and I'm from Saint Louis Missouri. I am currently a senior at SDSU and will be graduating this December 2017. I absolutely enjoy being outdoors and when I have spare time I either go backpacking or surfing. Jake Solomon, my partner, is also graduating at the same time. He is from Rockland County, New York and is heavily interested in skateboarding. He grew up being very involved in skateboarding and with that community. As engineering students, we both drink a lot of coffee. Turns out we're both athletes, coffee enthusiasts, and action sports enthusiasts.
Every day I wake up at 6:30 AM to go work at the BCB coffee on campus and I head to class at the end of my shift. Once I am done with my morning classes I have a break from 3:00pm to 5:30pm where I get to work on either Bold Brew Coffee or school work. After my evening classes, I have meetings. Whenever I don't have meetings, I head to our commercial kitchen to brew, bottle, or keg our product.
A typical Friday for Bold Brew Coffee begins with us setting up our stand in the East Commons at SDSU at 7:00am. We'll work until 2:00pm and then pack up and finish the day by 2:30pm.
I look forward to the weekends the most since that is when all of our legitimate business development goes on. It is during those times that we expand and take our business around San Diego. We go out to different markets, pitch our idea, get meetings with people, and sit down to work on different types of strategies.
The most challenging parts of our business are obtaining capital and the late nights that come with it. I am a morning person, so late nights are tough. Aside from that, everything has been really rewarding. The coolest thing about this company is that it really is a personification of Jake and myself, everything we do is a representation of our own interest and we just put that out in the world.
The focus of Bold Brew Coffee is on the action sports community. We sponsor athletes through coffee; we sell the coffee, make money on it, then we use that money to help support athletes do what they love, and in turn we use their content to help market our brand. From our business perspective, we're trying to be a national cold brew coffee brand, more like a retail brand of cold brew coffee.
Jake was the one with the original idea. He approached me with the idea on April of 2016. We applied to the ZIP Launchpad in May. The main reason why we decided to jump start this idea was because we did not want to end up with desk jobs. We have both had internships in the corporate world and we just really were not enthralled by it. I for one am not convinced of the mindset "just wait 5 years and you'll get a better position in that job," I do not really submit to that at all, especially since those 5 years of my life are going to be the best ones.
During the second semester of junior year I interned in the prototyping lab with Kyle (Mechanical Design Engineer at the ZIP Launchpad). I did 2 days a week and it was super fun. I was really trying to build my engineering skills, so I gained great experience through that. When Jake approached me with the idea, I was thinking it was perfect because I already was familiar with ZIP.
The ZIP Launchpad has helped us in pretty much every way possible; having the place to work, having the mentorship, having the review panel experience, pitching all the time, getting critical feedback from the staff all the time was great. The ecosystem of students was a bonus as well, I love getting involved with people with a similar mindset, so being able to interact with the different entrepreneurs there was huge.
I went to Nicaragua where one of my best friend's family owns a plantation. I got to see how it was grown, cultivated and processed. I really was into the coffee aspects of everything and understood where cold brew was heading as far as beverage goes.
Our cold brew coffee brand is very unique because every coffee company that's ever been around has branded themselves the exact same way. We are completely doing away with that style of marketing. There's a huge population that consumes coffee, especially those in the action sports community. Tons of skateboarders, snowboarders, and surfers drink loads of coffee. However, we have noticed that they only choose to drink Starbucks because of its ease of access, not necessarily because they like the brand. There are also a lot of energy drinks that claim their ingredients are natural, and organic. However, they still have a laundry list of ingredients on the back of their bottle, they still contain loads of sugar and have the connotation of an energy drink. Everyone knows energy drinks are bad for you, so we are aiming to eliminate that completely because we're coffee. We don't need to beat around the bush and say we're an energy drink either since our product is just coffee and water. We have found that our target audience, which are males and females from the ages of 18-25, are leaning more towards healthier choices.
---
JS Design Industries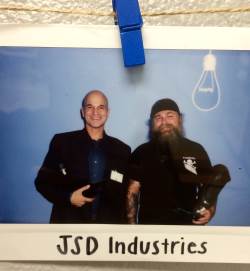 "JSD Industries exists to make prosthetic devices that give absolute stability to the user. "
- Michael A. Simonetti
I am Michael A. Simonetti and I am a graduate student here at SDSU. My interests include promoting this device for use to a global dimension, with a price that is affordable at all socioeconomic levels. The inventor is Mr. Frank Jones and has been the 'Focus Individual' of my Master's Degree certification in...
Apply to the ZIP Launchpad
Would you like to be featured in the Diary of an Entrepreneur? Email [email protected] to get started.
Extras from the Teams
When would you say it is the right time to start a business if you have a business idea?
Anytime, you can start a company at any age. If you want to do a startup, think about what you have to offer, what you are really talented in, and then how you provide that talent and value to other people. The most successful entrepreneurs are the people solving the biggest problems. Start now, there are a lot of ways to do it, just take the leap and test out the idea.
What advice do you have for future entrepreneurs?
If you have a business idea, the right time to start your business is as soon as you become a student at SDSU. If you go to community college first, use their entrepreneurial services. They may have a way to connect with the SDSU program. Contact the ZIP Launchpad immediately upon enrolling because you can only use the ZIP entrepreneur services if you are a SDSU Faculty member, employee, or student.
From what I have seen in the costs and obstacles, one has to hurdle to get a patent and meet licensing/registration requirements, which can be difficult at times. The fees are so excessive that the inventor loses possession of their patent if they cannot keep up with the yearly maintenance fees (for us it will be $3300.00 a year, but can be in the tens of thousands) and lose all that has been invested. This is only from the viewpoint of the inventor of a device that needs to meet many standards and your project will vary. Enroll in the ZIP as soon as you become a student and if you have an idea. Find out what pains people (inability to bathe on two legs) and solve that pain. This is how an invention is born.