Initiatives
Change the World through Entrepreneurship at the ZIP Launchpad
Are you driven to make a difference? Do you want to solve social, environmental, or economic issues? If you answered yes, then you could become a Social Entrepreneur. The ZIP Launchpad empowers change makers like you that are on a mission to make a positive impact in our world.
Meet a ZIP Launchpad Social Venture:
SOULMUCH
SOULMUCH started out with a simple mission, to reduce the food waste problem coming out of the restaurant industry. Reyanne and Krissy, the co-founders of SOULMUCH, both worked at a restaurant and were astonished at the amount of untouched wholesome food being thrown away every night. Knowing that there are so many people dealing with food insecurity they decided to take action and help change the world. See how Reyanne and Krissy turned this problem into a sustainable venture with a viable business model with the help of the ZIP Launchpad.


What type of social ventures does the ZIP Launchpad accept?
The ZIP Launchpad accepts any mission driven venture that is scaleable and solves a significant problem for its intended market. The ZIP Launchpad also accepts non-profits, though we encourage that the organization build a scaleable and repeatable business model so that it is not dependent on grants or donations to create change with their target market. Examples of social ventures that the ZIP Launchpad has accepted include Recyclinator (a tool for breweries to recycle CO2 and Havel (a bed in a backpack for construction workers in India). While the ZIP Launchpad does not have specific industries, sectors, or markets we look for, below are areas we're interested in. You can also look at the United Nations 17 development goals for areas of interest.



What exactly is a Social Venture?
Social enterprises are businesses whose primary purpose is the common good. They use the methods and disciplines of business and the power of the marketplace to advance their social, environmental and human justice agendas. Further, social enterprises are financially sustainable, meaning that revenue generated covers the cost of business.
Three characteristics distinguish a social enterprise from other types of businesses, nonprofits and government agencies:
It directly addresses an intractable social need and serves the common good, either through
its products and services or through the number of disadvantaged people benefits.
Its commercial activity is a strong revenue driver while addressing a large market need
with a scalable solution.
The common good is its primary purpose, and it's literally "baked into" the organization's
DNA yet still optimizes for a sustainable business model.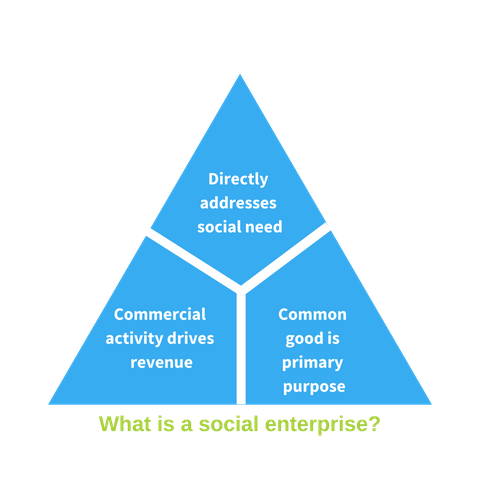 Social Entrepreneurship Resources
Below are a handful of great resources to further understand social innovation and social enterprises.
Below are organizations and events in the Greater San Diego Area that relate to social entrepreneurship: