About Us
Become an Entrepreneur at the ZIP Launchpad

The Zahn Innovation Platform Launchpad (ZIP Launchpad) is an on campus incubator that supports San Diego State University (SDSU) students, staff, and researchers from all majors and departments in launching startup companies.
Within 1 year, participants can begin the ZIP Launchpad program with an idea and exit with a viable, growth oriented business. The ZIP Launchpad surrounds aspiring entrepreneurs with the support and resources needed to make their entrepreneurial dreams a reality.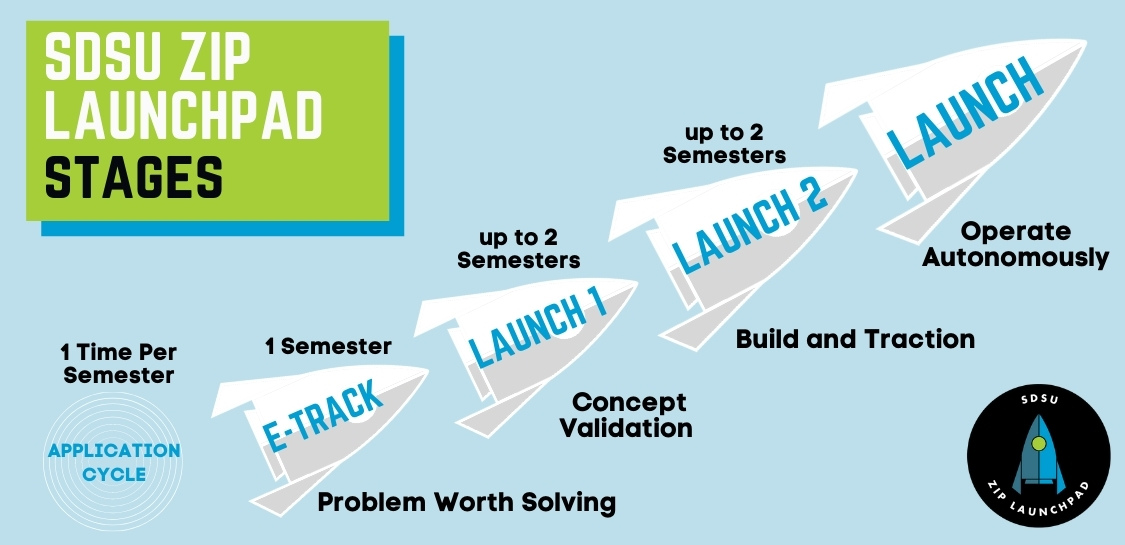 Every semester, SDSU students, staff, and researchers have the opportunity to apply to the ZIP Launchpad during the application cycle. Once accepted, participants embark on an entrepreneurial journey exploring the problem they are solving, validating their solution, building their company, and gaining traction all while surrounded by experienced advisors, mentors, and domain experts. Participants gain access to a wide range of resources such as office hours with legal and domain experts, software and hardware engineering guidance, up to $10,000 in non-equity funding, a 24-7 workspace, sponsorship to attend national business competitions, and more.
Get Involved Today
Providing Value to Startups
Through the generosity of our donors, including the Moxie Foundation, H.G. Fenton Company, and San Diego Gas & Electric, and in conjunction with support from SDSU, these benefits are provided at no cost to admitted startups. A sample of benefits and services are listed below:

Access to the H.G. Fenton Company Idea Lab, which provides all the tools necessary for designing and creating a prototype.
Mentorship and guidance from successful local entrepreneurs and executives
Pro bono legal guidance from the law offices of Mintz Levin
Access to investors
Working capital grants for up to $5,000 to fund idea validation through the ZIP Launchpad Success Fund
Collaborative work space open 24/7, housed in EISC 103
Workshops around startup fundamentals